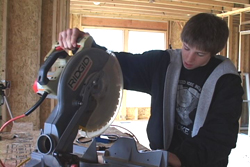 The VoltBolt can be used to limit the risk incurred when unauthorized people attempt to use potentially dangerous equipment. Children are frequently involved in accidents and are tempted to use unattended power equipment. The National Center of Health Statistics says that children under the age of 14 are seven times more likely to die from an accidental injury than a homicide and that injuries are the number one killer and disabler of children. Furthermore, the NCHS reports that one out of every four children suffers a preventable injury that requires medical attention. There are things that can be done to prevent these kinds of serious injuries and the application of the VoltBolt is an excellent first step for parents with electrically powered equipment in their household.
Home Builders:
Leaving power tools at the job site is a common practice for many home builders. Daily loading and unloading of the equipment in an effort to keep it safe is both time consuming and increases the likelihood of damage to the equipment. Using the VoltBolt, the home builder can now simply turn a key to lock out access to the equipment and leave the job site knowing that the equipment is secure.
Home Workshops:
Table saws, band saws, drill presses, lathes, planers, and other equipment typically found in workshops, all present a significant and very real danger to children. Use the Voltbolt as an extension cord connected to this equipment when working with it and then with the simple turn of a key power can be locked out before leaving.
Reduced Liability:
Anytime someone is injured from power tools other than their own, an investigation for a liable party occurs. The Voltbolt can greatly reduce ones exposure to liability because power tools and other electrical equipment will not work as long as the Voltbolt is locked onto the equipment.